Paper Bags for Businesses, Retail, and Restaurants

Paper bags are an eco-friendly (and elegant) choice for many businesses, including retail stores, restaurants, supermarkets, spas, and medical offices. By enhancing your brand's visibility and image, custom paper bags serve as a terrific promotional tool when used daily, as well as during tradeshows and other special events.
With Brown & Pratt, you can rest assured we'll provide a good selection of high-quality products, as well as responsive customer service when you need personal attention.
When choosing the paper bag that will best suit your business and meet your clientele's needs, it's important to consider how the bag is manufactured. With custom manufacturing, you're able to select the bag's shape, handle type, and size to match your business' unique specifications.
You'll want to consider the following:
Items the bag needs to hold
Thickness of the bag
Size of the bag
Handle type
We offer custom paper bags with logos and text printed on them. We'll speak with you to learn about your business goals and to determine the best design. We know it's important for the final product to represent your brand well.
There's an initial one-time cost on most orders of custom printed paper bags because we make a template – and this increases efficiency on any future orders. We use an advanced color matching system and printing plate designed specifically for your business. The result is a bag that has a truly unique look, allowing your company to stand out from the competition.
Our bags, including custom paper shopping bags, are available in a variety of different sizes, colors and styles. A few of the many options include:
Carry-out Bags
Coffee Bags
Colored Shopping Bags
Flat Paper Bags
Grocery Bags
Lunch Bags
Prescription Bags
Tote Bags
White Kraft Bags
Wine Bags
This is just a sampling of what we offer. If you don't see the style you had in mind, please give us a call and we'll work with you to find exactly what you need.
We offer 16 different sizes with serrated tops on our paper bags including handles – 14 of these options include twisted handles, and the final 2 include a tri-fold flat handle.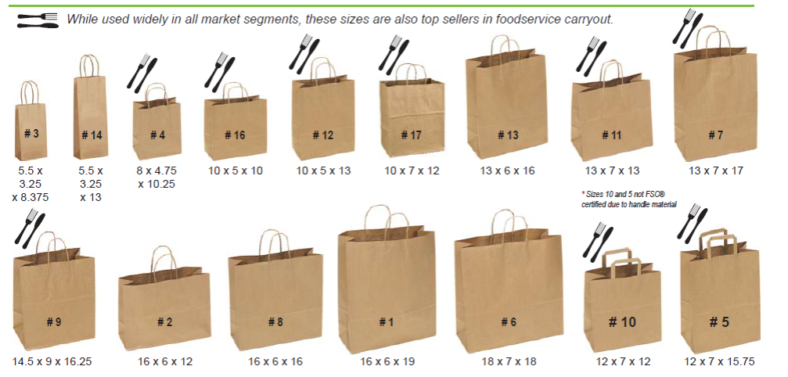 The 14 sizes including twisted handles offer 6 color options:
Beige
White
Natural brown kraft
The 2 flat handle options come only in natural brown kraft.
When you buy custom paper bags in bulk, you'll save greatly on cost. If your company will require ongoing bulk orders of bags, you'll be getting a significant discount on your customized bags.
Minimum order and price breaks
The minimum order for all in-line printed bags is 5,000.
We offer price breaks at:
All other quantities must be custom quoted at for the most competitive pricing based on your custom print, bag size, and bag type.
Pricing includes up to 3 colors printed and all bags include up to 100% ink coverage outside. We may be able to achieve the look of more than 3 colors using screening. Artwork must be evaluated if the order is for more than 3 color printing.
Standard lead time on all custom printed paper bags is typically 3-5 weeks after final artwork approval. Artwork must be provided on blank paper bag templates which can be provided by our sales staff at the time of quoting for artwork positioning and set-up.
Special Offer for new business orders

Free printing plates and shipping on all new business orders for in-line printed paper bags.
Printing plates are kept on file and you will only be charged for these if changes are made to artwork or if new bag sizes are added once a project has been set up (first order has been run). Freight is pre-paid for the 1st standard dock-to-dock shipment. Additional shipping costs may apply for additional requirements (residential delivery, lift gate required, etc.)
Contact us today to learn more about our custom paper bags or for a free consultation.