Top quality packaging materials while
Providing Exceptional Value
Specializing in custom printed bags and boxes since 1954
*Click here to get a custom design quote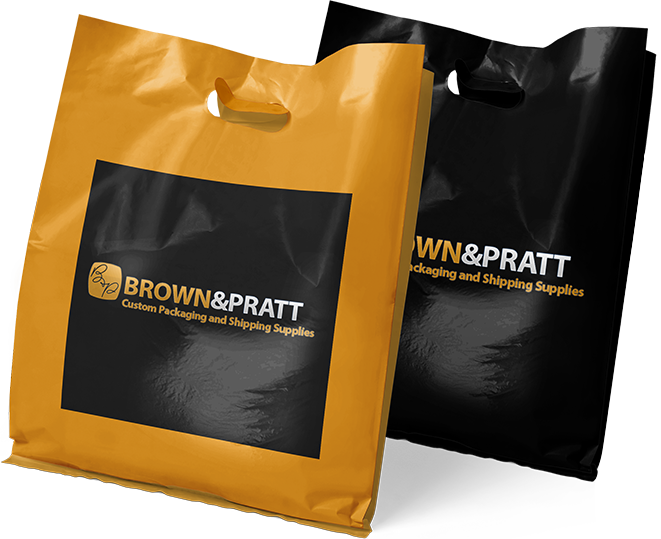 *Click here to get a custom design quote
WE ARE DEDICATED TO FULFILLING ALL YOUR PACKAGING NEEDS WITH EXCEPTIONAL SERVICE
Custom Printed Boxes, Bags, and Tape
The industries that we serve are truly how Brown & Pratt is now 50+ years old! We produce, literally, thousands of Packaging & Shipping products. Our product offering is so diverse, that we are able to serve dozens of business industries.
A few of the industries that we serve include: Indianapolis Motor Speedway, Restaurant-Carry Out, Food Service, Food Preparation, Warehouse – Warm & Cold, Optical Processing, Industrial Laundries, Dry Cleaners, Wholesale/Resale, Hospital/Health Care, Food Distribution, Health Care Product Packaging, Biohazard Waste Packaging & Disposal, Educational Product Packaging, Matched Retail Packaging, Trade Show Products, Promotional/Advertising, Point of Purchase Packaging, Point of Purchase Displays, Prison / Penitentiary Products, Distribution, Hotel Packaging, Medical Supply and Orchard & Nursery Packaging.

Looking to do your own artwork on retail boxes in Indianapolis? We offer design services and eye-catching logo printing. Whether it is single or full color printing on boxes or paper materials of your choice, Brown & Pratt provides terrific printing and custom packaging options at competitive rates.

We strive to supply you with any type of packaging to fit your every conceivable packaging need. While most of our competitors focus on a couple of product lines, we prefer to carry all product lines so that we can monitor how different products blend with each other.

In addition to the standard polypropylene and polyethylene films, we offer the increasingly popular biodegradable option for our custom produced poly bags as well as reusable options such as non-woven polypropylene bags for the eco-friendly.

Looking for a way to promote your brand or simply secure your packages to make them tamper proof? We can custom print all styles of tape including: Standard Polypropylene (up to three colors), Paper (up to two colors), and masking tapes (one color basis print)!
some of our esteemed clients in the showcase.

Veronika
I stumbled upon Brown & Pratt while sourcing a company who could make custom masking tape for our business. I'm so happy that I did. Brandon and the whole team that creates the tapes have been absolutely fantastic to work with! The tape is high quality, well priced and the customer service is outstanding. I love working with a company that has good old fashioned values. We will definitely be ordering more and more tape from them!
Veronika
Yarn On The House

Ron H.
Partnering with Brown and Pratt is great. Their forward thinking approach makes sure that they're providing a top notch product at a great price on a consistent basis? Everyone from top to bottom provides an unparalleled knowledge of their products as well as the current market conditions. As a container corporation partnering with B & P, I find them great to work with and their attention to detail is second to none. I wish everyone was as great to work with as Brown and Pratt.
Ron H.
A Container Corporation

Mark B.
Tradition is important to us at the Indianapolis Motor Speedway and we are proud of the tradition and relationship we have built with Brown & Pratt. Brown & Pratt serve as the sole supplier of shopping bags used in the 100 Official Trackside Gift Shops as well as our permanent retail locations. In addition to supplying shopping bags we have approached Brown & Pratt to develop solutions to packaging needs we have dealing with the specialty merchandise we offer. We have found Brown & Pratt to be attentive to our needs and able to consistently provide high quality cost effective solutions to our packaging needs. I personally have always found the Brown & Pratt sales force to be professional and willing to take any amount of time necessary to insure I am satisfied with their products and service. As in the past and into the future I would not hesitate to approach Brown & Pratt for any packing need I have.
Mark B.
Indianapolis Motor Speedway

Kirk S.
Brown & Pratt has been a great partner, helping me launch a new product; from packaging options to custom manufacturing, Brown and Pratt, and specifically Brandon, have been great! I recommend working with them for all your packaging needs.
Kirk S.
President - Execute, Inc.

Donna R.
B & P is true quality service that is reliable, dependable, and personable. Variety of products that fit all warehouse & office packaging/shipping needs as well as safety supplies to insure OSHA requirements.
Donna R.
State of Indiana

Beth S.
We have worked with Brown & Pratt for 12 years now. Their quality, price and customer service are exemplary. Truly a pleasure to work with. Gil, also want to thank you for your voicemail. That was my mother-in-law. That was sweet of you to call.
Beth S.
Indiana Pacers